Vascular access team leading the way in infection prevention strategies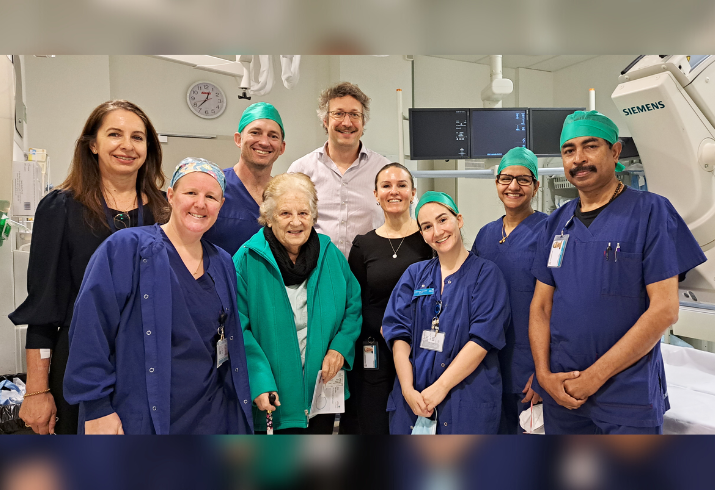 The FSFHG vascular access team standing with the first patient who received care using the new technology.
The Fiona Stanley Fremantle Hospital Group (FSFHG) vascular access team has once again lived up to their status as leaders in the field, playing a key role in the introduction of a pivotal new intravenous (IV) therapy technology.
In a WA-first, the team recently placed the first newly Therapeutic Goods Administration (TGA)-approved Arrowg+ard Blue Advance, a peripherally inserted central catheter (PICC) line developed by Teleflex Medical.
A PICC line is a long, thin tube that is inserted into a vein enabling the delivery of IV medications, fluids and blood products directly into the central bloodstream. It is commonly used for a variety of treatments in immunocompromised patient groups, including for chemotherapy, liquid nutrition and long-term intravenous antibiotics.
Whilst generally very safe, as with any invasive medical device, PICCs carry risks including potential for infection and thrombosis. The new Arrowg+ard Blue Advance PICC was designed with antimicrobial and antithrombogenic properties to offer superior prevention of these complications.
Fiona Stanley Hospital Clinical Nurse Consultant Gavin Jackson has played a key role in advocating for and adopting this technology and was the State's first to use the new PICC technology for a cancer patient.
"PICC lines have been used for many years and are an important tool to help facilitate intravenous treatment for patients from all walks of life with a variety of medical concerns," Gavin said.
"Despite leading the way for evidence-based best practice, we remain vigilant for new technologies as they emerge to ensure we continue to deliver the highest-quality care available for our patients.
"I am proud to have played a role in introducing this technology for our patients and look forward to working with the vascular access team, in collaboration with the infectious diseases team and Teleflex Medical, to further the research."
Keep up to date with our news and achievements