New artwork brightening the walls of Fiona Stanley Hospital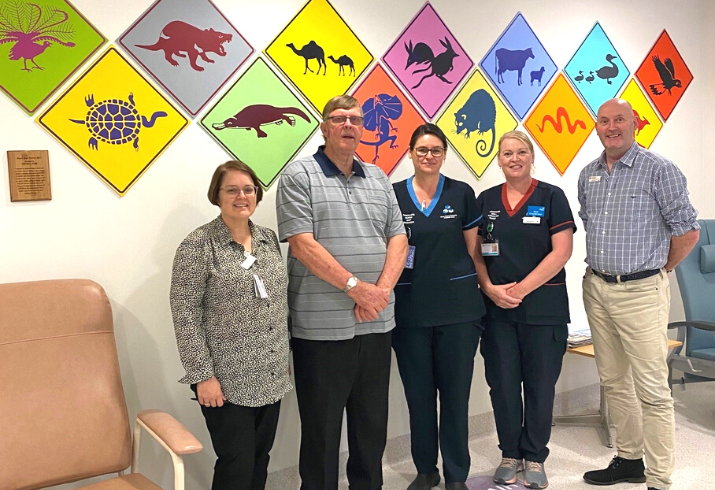 Peter Lowe pictured second from left with FSH staff and FSFHG Executive Director Neil Doverty.
The walls of Fiona Stanley Hospital's (FSH) Day of Surgery Admissions (DOSA) and Medical Imaging are looking brighter thanks to some new, colourful artwork donated by former patient Peter Lowe.
Owner of Peter Lowe Art (external link), Peter is an award-winning contemporary practicing artist in Perth who specialises in painting, printmaking, sculpture, laser cutting, mixed media and assemblage.
After spending three months at FSH back in 2019, Peter developed a strong connection with the hospital thanks to the care he received whilst undergoing skin cancer treatment.
Wanting to give back to the hospital and brighten up the space for other patients to enjoy, Peter donated 20 paintings, with 13 hanging up in DOSA, and the remaining seven hanging up in Medical Imaging.
Travelling as far as Tasmania, Peter sought inspiration for his artwork from road signs across Australia.
"I have always had an interest in fauna road signs and enjoyed travelling around Australia to source the images," Peter said.
"The paintings took six months to complete and are each hand painted on an aluminium plate, with only the colours altered for visual impact."
Fiona Stanley Fremantle Hospitals Group Executive Director Neil Doverty said there are many benefits of displaying artwork in our hospitals.
"Art has shown to have a positive impact on patients wellbeing and can help to reduce stress, anxiety and pain," Neil explained.
"It creates a welcoming and comforting environment, can act as a positive distraction for our patients, and serve as a conversation starter.
"I sincerely thank Peter Lowe for the generous donation of this bright, colourful artwork."
The paintings feature a variety of animals including camels, cows, a frilled neck lizard, platypus and more.
Keep up to date with our news and achievements