Agreement with Indian medical school to share research and knowledge across continents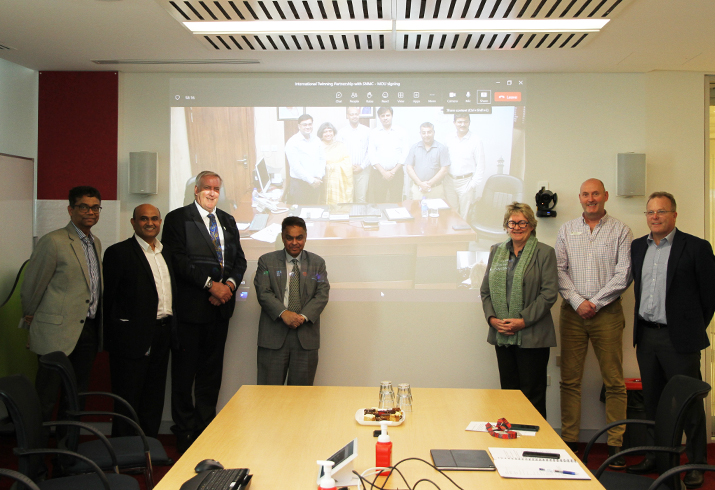 Representatives from SMHS and Perth Consulate General of India stand together in front a video call with members of the Sarojini Naidu Medical College.
Representatives from Sarojini Naidu Medical College (SNMC) in Agra, India are set to collaborate with South Metropolitan Health Service (SMHS) as part of an official 'twinning' agreement to bolster research, knowledge and clinical care for both of our communities.
This formal agreement aims to advance and strengthen the capacity of our respective healthcare organisations across a range of multi-disciplinary services and professional disciplines, whilst working together by supporting each other in the key areas of academic (teaching and training), translational research and capacity building through clinical exchanges.
Fiona Stanley Fremantle Hospitals Group (FSFHG) Executive Director, Neil Doverty, acknowledged the potential of the partnership.
"Ultimately, this agreement symbolises both health services' commitment to sharing our approaches and innovations, with the aim of consistently delivering care to the highest standard in our different jurisdictions," Neil said.
"SNMC serves as general and specialist medical care provider for the city of Agra as well as the five million people in surrounding towns and districts, meaning we can learn a lot from them about providing healthcare to a rapidly growing population.
"We can also tap into their ample opportunity for hospital and population-based research and clinical trials.
"In return, we offer knowledge and experience in cutting-edge innovations, such as our Ambulatory Emergency Care Clinic, Virtual Emergency Medicine, and Kaartdijin innovation centre, as well as our outstanding clinical practice, particularly in geriatric medicine, cardiology, and ear, nose and throat."
SMHS A/Chief Executive, Kate Gatti, said this is another major milestone in meeting SMHS' strategic focus to explore and develop twinning opportunities with other health jurisdictions around the globe.
"Sharing knowledge, innovations and research across health providers is crucial in offering the highest level of healthcare to our community," Kate said.
"It is great to see this – our second SMHS twinning agreement – come into effect, the first being with SingHealth a few months ago, and I look forward to seeing our relationship with both of our new partners continue to grow."
The agreement was signed in July 2023 by SMHS leaders and their SNMC counterparts via video conference, with the Perth Consulate General of India also in attendance.
This most recent MoU with SNMC follows a twinning agreement with Singapore Health Service (SingHealth) developed earlier this year.
Keep up to date with our news and achievements