Partnership with Murdoch University helping make our hospitals more culturally inclusive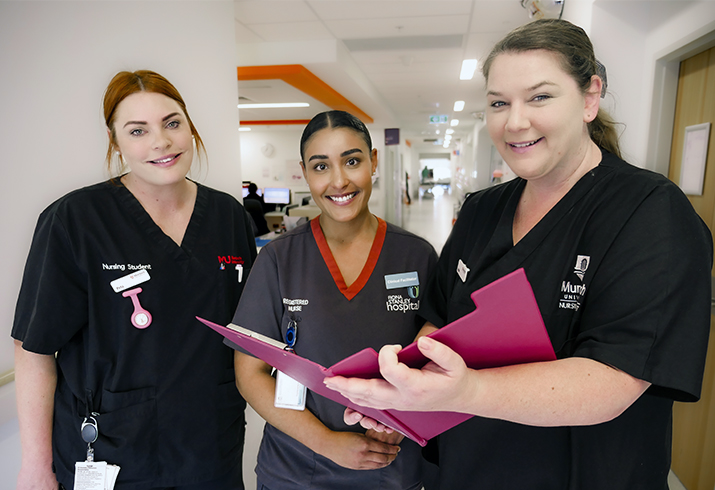 Murdoch University nursing students Jayde Larsen (left) and Peta Clifford (right) with their supervisor, Fiona Stanley Hospital Acute Surgical Unit Registered Nurse Amber Simpson
A partnership between Fiona Stanley Fremantle Hospitals Group (FSFHG) and Murdoch University aims to increase the representation of Aboriginal nurses among our workforce.
As part of their training, Murdoch University student nurses complete their placements at FSFHG hospitals to gain the necessary experience to become a registered nurse.
As a natural extension of our already robust partnership with Murdoch University, FSFHG was eager to join forces with University's School of Nursing for the Moorditj Kaartdijin, Moorditj Warlang training program in 2020, which translates to "good/strong knowledge, good/strong health".
FSFHG's participation in this partnership is led by Nurse Director Education, Pen Keogh, alongside the Nursing and Midwifery Education team, the South Metropolitan Health Service (SMHS) Aboriginal Health Unit, and of course the supervising registered nurses, many of whom are SMHS Aboriginal Health Champions.
Nursing student Jayde Larson said the Moorditj Kaartdijin, Moorditj Warlang program recognises Indigenous knowledge, providing a culturally safe environment for all patients.
"Aboriginal and Torres Strait Islander people do not always have the same opportunities to access healthcare, especially in the rural and remote areas of the State, and quite often, when they do seek healthcare, misunderstandings can be experienced by both parties," she said.
"By having a workforce that is strong in its Indigenous healthcare workers, all patients can have the opportunity to feel safe, their culture respected, and receive the healthcare that we are all entitled to."
Nursing student Peta Clifford said the program has provided incredible insights into the real-world work of a registered nurse.
"I have been able to harness various skills, strengthen clinical knowledge and link my university teachings to practice," Peta said.
"This partnership has also allowed me to gain a wide range of insight and expertise from different staff members I've worked alongside over both hospital locations, further strengthening my confidence, clinical knowledge, and enthusiasm to delve into this career of lifelong learning.
"I have come to love working at Fiona Stanley Hospital, where the majority of my placements have been, and I am excited to see where the future will take me upon graduating."
FSFHG Executive Director Neil Doverty explained the importance of having a culturally diverse and inclusive hospital workforce representative of the local community, especially for patients who may feel more comfortable receiving care from a culturally familiar healthcare worker.
"Having a diverse workforce is essential to best understand the needs of our patients and create an environment where both staff and patients feel safe and comfortable," Neil said.
"This is why we are proud to have partnerships in place like this, to ensure culturally safe healthcare, including by helping provide Aboriginal student nurses the highest degree of practical experience and promoting our hospitals as a workplace of choice when they graduate.
"I am proud of our strong relationship with Murdoch University and look forward to seeing our partnership continue to grow to facilitate many more Aboriginal Australians join us in their practical university learning and hopefully, later in their employment!"
Keep up to date with our news and achievements