Consumer Advisory Council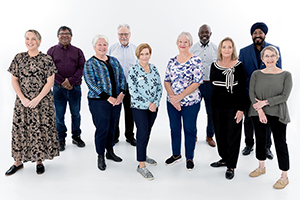 Fiona Stanley Fremantle Hospitals Group (FSFHG) is committed to partnering with consumers to ensure a person-centred approach to service delivery, and that the consumer voice is heard, acknowledged and valued.
The Consumer Advisory Council (CAC) includes consumers, carer and community members, and provides support and advice to our hospitals to improve the hospital experience for patients, their families, and carers. Areas of involvement include planning, development, and evaluation of health services at our hospitals, and advocating for consumers, carers and the community.
Read a snapshot of the Council's achievements in the 2023 CAC Annual Report (PDF 727KB).
Improving patient safety with Teach-back
Patients, families and carers who understand and remember what they have been told by their treating team make better informed healthcare decisions.
This video featuring CAC members explains to treating teams how using the 'Teach-back' method supports patients, families and carers to make healthcare plans and decisions.
Join the CAC
The CAC welcomes applications for membership from people with an interest in helping improve the services provided by FSFHG, either as a consumer or potential consumer living within the FSFHG catchment area.
A consumer is a potential, current or previous user of Fiona Stanley or Fremantle Hospital, and CAC membership aims to reflect the diversity of the local community.
Share your feedback
The CAC also values feedback from the community – email the CAC or phone 6152 4013.
Other consumer advocacy and support groups
Additional support for health consumers is available from these organisations:
Meetings
The CAC meets monthly.
Becoming a CAC member
If you would like to become a CAC member, please contact the Patient and Family Liaison Service on 6152 4013 or complete our Expression of Interest form (Word 172KB) and email to the CAC.
Read more about how the CAC functions in its Terms of Reference (PDF 565KB).
Other ways to get involved
Our Consumer E-Network is a group of consumers interested in partnership and participation and helps the hospital by reviewing patient publications. To join, complete the Consumer E-Network Expression of Interest form (Word 73KB) and email to FSFHGCAC@health.wa.gov.au.