UK ICU nurse loving her jump across the seas at Fiona Stanley Hospital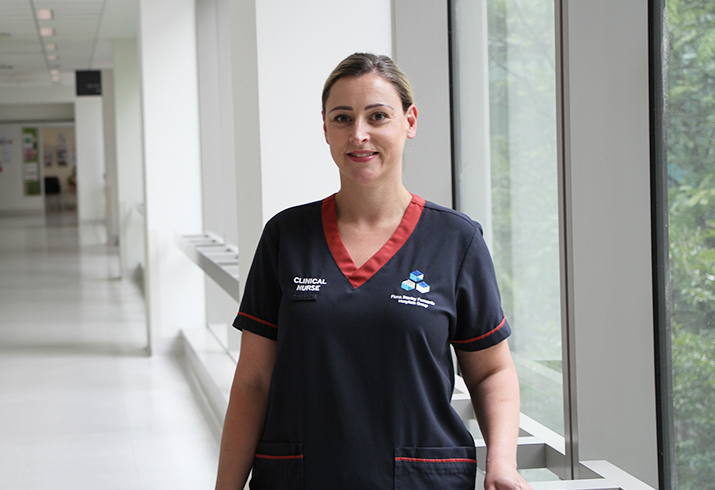 Originally from Manchester in the UK, Fiona Stanley Hospital (FSH) Intensive Care Unit (ICU) Clinical Nurse and Clinical Nurse Educator, Laura Head took a leap across the seas and joined the FSH team 18 months ago. She hasn't looked back since.
Laura jumped at an opportunity to relocate to Perth and join the FSH ICU, so could advance her 15 plus year nursing career as a clinical educator.
Laura was looking for an ICU with specialities in cardiothoracics and advanced heart failure and extra-corporeal membrane oxygenation (ECMO), which the FSH has and more.
"Not every ICU has such diversity, and FSH ICU provides great learning and development opportunities," Laura said.
"Patients in the FSH ICU are often sedated and ventilated, and we deal with anything ranging from multiple organ support, basic, advanced or non-invasive ventilation and renal replacement therapy, to cardio-thoracic surgery, heart failure, ventricular assisted devices, ECMO, or critically ill obstetric patients.
"My favourite thing about working in the ICU is the high acuity, and specialised care we are able to provide to patients and their families."
In between being a Clinical Nurse, Laura recently took on the role of Clinical Nurse Educator, assisting staff to support ICU patients by providing inductions to new members of staff, assessing and developing their competence for ICU skills, and educating her team through provision of training in the upskilling program.
"I love using my knowledge to upskill and empower junior members of the team," Laura said.
"The FSH ICU is a supportive learning environment to develop enhanced nursing skills at varying skill levels and with an opportunity to care for many specialities."
The Fiona Stanley Hospital ICU is currently on the lookout for more nurses to join the team. Learn more about this opportunity (external site).
Keep up to date with our news and achievements