Speech pathologist loves working in fast-paced intensive care unit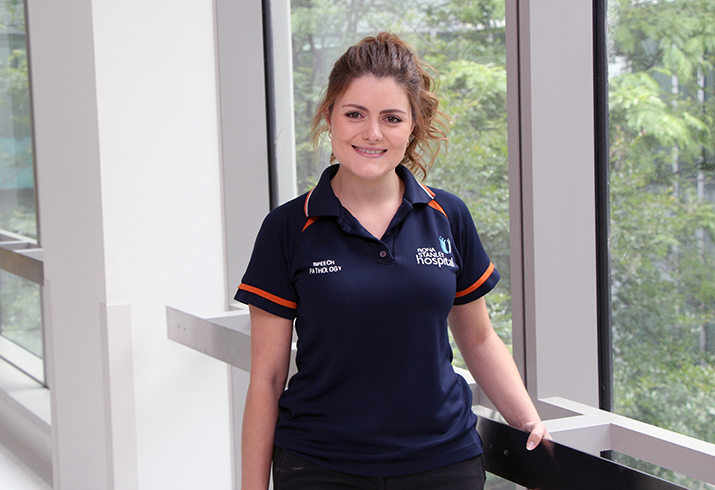 The complex, rapidly changing patients, and fast pace of the Fiona Stanley Hospital (FSH) Intensive Care Unit (ICU) drew Senior Speech Pathologist Dominique Ferreira to the field two years ago.
Dominique started her career as a speech pathologist in rehabilitation at Fremantle Hospital after graduating from Edith Cowan University in 2012. Dominique transferred within the South Metropolitan Health Service family to FSH when it opened, working on numerous acute and rehabilitation wards before finding her home in the FSH ICU.
For Dominique being in the FSH ICU means something different each day. "There is no 'average day' in the ICU – that's the best thing, nothing is the same," Dominque said.
"The complex medical presentations sometimes result in the need for tracheostomy insertion which renders the patient unable to communicate verbally, and my role with optimising communication in this patient cohort is vital to the patient's mental well-being and participation in their own care needs."
"I also manage complex dysphagia (swallowing difficulties), with a focus on using a bedside instrumental swallowing assessment called flexible endoscopic evaluation of swallowing (FEES)," she said.
There are a variety of medically compromised patients from surgical and medical caseloads across all specialties within the FSH ICU, including unique specialties like the State's burns and heart and lung transplant services, and many patients requiring multiple forms of life-supporting treatments.
Dominique said she loves being a part of the FSH ICU team which values teamwork and provides a supportive environment to implement evidence-based practice and achieve the best possible patient outcomes.
"I love supporting the multidisciplinary team to optimise communication for patients, and advocating for patients and Speech Pathology services," Dominique said.
Dominique's advice for those considering working in the FSH ICU is to just jump in an do it.
"Without having worked in an ICU before there were a lot of new experiences. The team were always willing to help and with their support I've been able to develop my clinical skills."
"Once you join the ICU, you won't look back!" Dominique said.
Would you love to work with in a fast-paced environment with a highly qualified multidisciplinary team? Our ICU is currently recruiting for registered nurses! Apply now (external link).
Keep up to date with our news and achievements