Simplifying access to care for elderly patients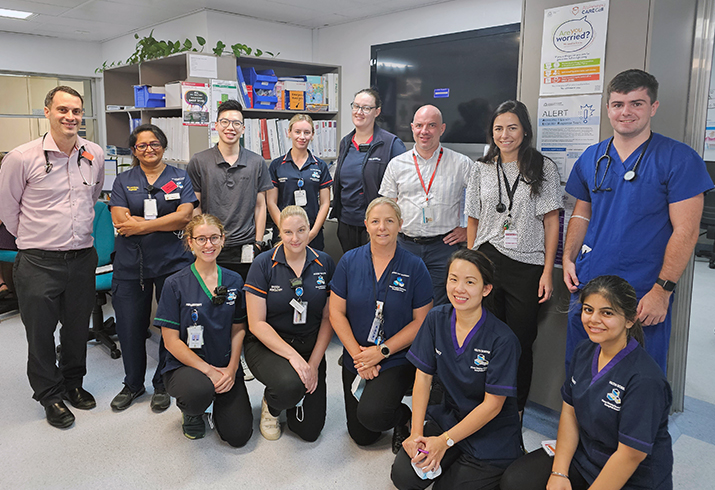 Members of the Fremantle Hospital multidisciplinary geriatric team
The South Metropolitan Health Service (SMHS) Virtual Emergency Medicine (VEM) initiative is further improving patient outcomes by admitting elderly patients directly to the specialised geriatric ward at Fremantle Hospital.
Fremantle Hospital Consultant Geriatrician, Dr Janet O'Brien, explained that geriatric patients are a vulnerable and often frail cohort, who typically have a high risk of complications, which is worsened by being moved between wards and hospitals.
"The more bed moves elderly patients undergo, the higher the risk of complications such as delirium, which can result in a longer hospital stay," Janet explained.
In a collaboration between SMHS, St John WA and community-based outreach health services, VEM connects ambulances with the Fiona Stanley Hospital (FSH) Emergency Department (ED) command centre in via a video call, enabling patient assessment and triage before they have arrived at the hospital.
This service has now been expanded so the command centre identifies patients who would benefit from care in a geriatric ward rather than the ED, and the ambulance is seamlessly diverted to Fremantle Hospital, where patients receive specialised care from the multi-disciplinary geriatric team.
This means elderly patients, many of whom have dementia, are directly admitted to the most appropriate treatment area the first time, avoiding undergoing bed moves unnecessarily.
FSH Head of Emergency Medicine and member of the VEM team, Dr Vanessa Clayden, said this expansion is helping to reduce pressure on the FSH ED.
"The more patients we can divert away from the ED, the more we can reduce ramping and overcrowding at the FSH ED," Vanessa explained.
"Importantly though elderly patients who are diverted to Fremantle Hospital do not need spend time waiting in ED for suitable inpatient beds."
"The VEM team is so proud to offer elderly patients streamlined access to the specialists who are equipped to give them the best care. It is patient-centred approach and pleasant patient journey with excellent outcomes."
Keep up to date with our news and achievements