Keeping it in the family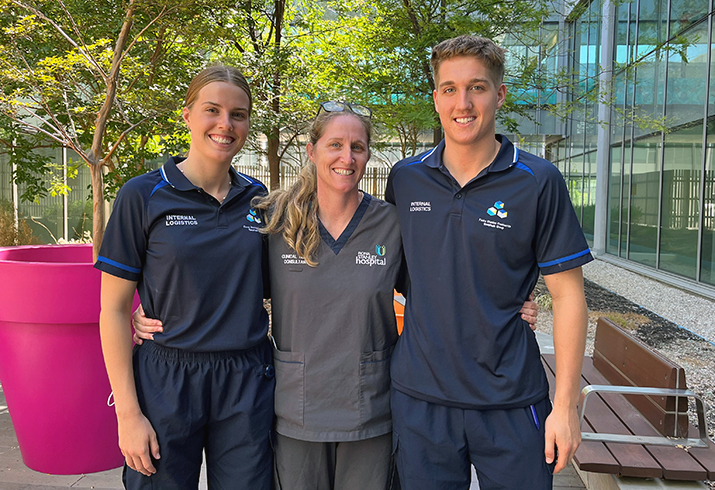 Emily, Rebecca and Jack Cleaver
We often refer to our colleagues as our 'work family', but for the Cleaver's, family connections run further than their family home.
Having worked at Fiona Stanley Hospital (FSH) for six years, Clinical Nurse Consultant Rebecca Cleaver encouraged her two children, 20-year-old daughter Emily and 18-year-old son Jack, to apply to join the FSH family.
"The supportive working culture combined with the hands-on experience they would get made me think what a great opportunity this would be for them," Rebecca said.
"I really enjoy working at FSH and think it's a great footing into working-life, which is why I encouraged my two to apply."
Initially working in the COVID-19 testing clinic carrying out PCR swabs and later RAT tests, Emily and Jack have since taken up work as orderlies, following the closure of the clinic in July 2022.
Emily, who is studying Medicine at Curtin University said working at FSH has been beneficial to her studies.
"I am grateful to have the opportunity to work in a hospital setting, especially at FSH," Emily said.
"Being able to see and understand how different areas in the hospital operate has been a real eye opener and has been valuable in my studies so far."
With a passion for rural medicine and helping those less advantaged, Emily looks forward to completing placements across metro and rural WA hospitals.
Jack, an aspiring AFL player, has been busy juggling work and football commitments over the past 12 months.
"My first day working at the COVID clinic turned out to be the busiest day the clinic saw," Jack said.
"Working at FSH has proved to be a great learning opportunity for me.
"I have received lots of support from those around me as I juggled work and football commitments."
Just one step closer to his dream, Jack has been invited to train with Essendon Football Club ahead of the Supplement Selection Period in February.
Whilst we're not confident of winning Jack back from the starry heights of the AFL (good luck Jack!), we hope we've wetted Emily's appetite for a return to SMHS, potentially as a junior doctor.
Keep up to date with our news and achievements