ICU nurse loves that no two days are the same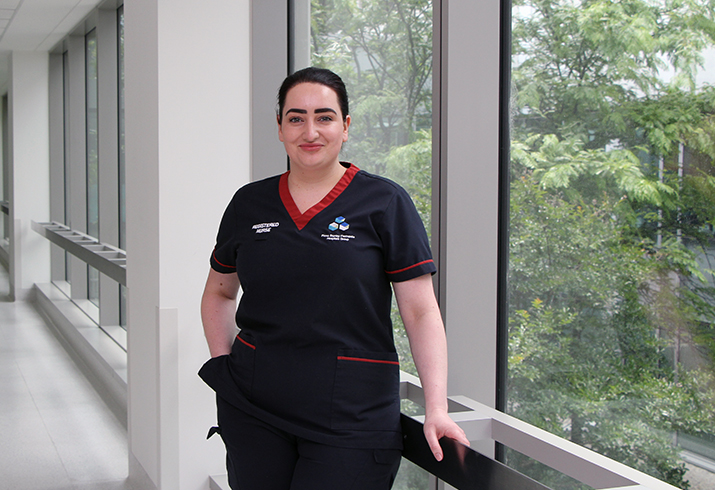 Fiona Stanley Hospital (FSH) Intensive Care Unit (ICU) Registered Nurse Danelia Craill has always known she wanted to go into the sciences. However, despite coming from a family of nurses, it wasn't until her baby brother was admitted to the ICU that she had a 'light bulb moment'.
"When I saw the ICU nurse working with him, I was really struck by her extensive knowledge and skills, as well as her kind and caring nature," Danelia explained.
"I was inspired to do the same and went on to complete my Masters in Nursing, finally joining the FSH ICU team in April 2022."
For Danelia, coming to the FSH ICU was a no brainer because of the hospital's unique service delivery, as well as the culture within the team.
"There were three main reasons I knew I wanted to come to the FSH ICU," Danelia said.
"First, I loved that the Royal Flying Doctor Service lands on the roof of the hospital and a team of us in the ICU stand ready to receive the patient – there is nothing quite like the adrenaline rush of applying your expert skills to look after an acutely ill patient.
"Second, the ICU has the state cardiothoracic transplant unit embedded in it, meaning I had the opportunity to develop into a highly-skilled cardiothoracic ICU nurse.
"Finally, there are tons of professional development opportunities at FSH and you are supported, and even encouraged, to take any opportunity to further your expertise – the more you put in at FSH's ICU, the more you will get out."
Never knowing what she's going into every day, Danelia also really enjoys the variety of work at the FSH ICU.
"I always say an ICU nurse is a 'jack of all trades… and a master of all trades'," Danelia laughed.
"The ICU cares for the sickest patients from all of the different specialties – I can start the day looking after an obstetrics patient and end up with an emergency heart surgery patient by the end of the day.
"Every morning, I can honestly say I don't know what the day will bring – and that's very exciting."
Danelia went on to explain that although all her reasons for joining the ICU team to begin with are all still true, it is the team who really make FSH ICU an incredible place to work.
"Not only is our formal professional development well supported, but the senior nurses are also really committed to giving us every opportunity to learn and will always make the time to teach us new skills or help us to think clinically," she said.
"Management is also really encouraging of a good work-life balance, such as supporting us to work longer shifts, but less of them every week – meaning more time at the beach in summer!
"And of course, the team works so effectively together and we can always have a laugh during our downtime – the FSH ICU couldn't have better people!"
The Fiona Stanley Hospital ICU is currently on the lookout for more nurses to join the team. Learn more about this opportunity (external site)
Keep up to date with our news and achievements