New tech to improve outcomes for thyroid nodule patients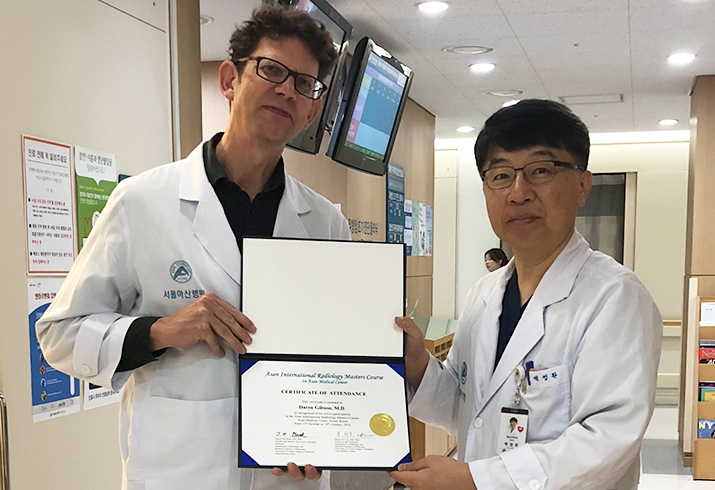 In a WA first, the new thyroid radiofrequency ablation (RFA) service has been established at Fiona Stanley Hospital (FSH) and is expected to significantly improve outcomes for eligible patients with benign thyroid nodules.
Thyroid nodules are common and affect about 30 per cent of women. Much of the time they remain small and don't need medical intervention but can sometimes grow to cause a blockage in the throat.
Thyroid RFA is a recent outpatient technique stemming from Korea that works by essentially shrinking the nodule, and the symptoms along with it.
After training with the technique in Korea, FSH Consultant Radiologist Dr Daren Gibson, played a key role in introducing this technology to Western Australia, including by streamlining its approval with the Therapeutic Goods Administration (TGA) and local credentialing committee.
"Up until now, patients seeking options for symptomatic or suspicious thyroid nodules in Western Australia have opted for surgery, resulting in a hospital stay, lifelong treatment to replace thyroid hormones and a scar on the neck," Daren said.
"With this technology, eligible patients can receive treatment in a relatively quick outpatient procedure under local anaesthetic and be back to their normal lives within a day or two – no lifelong medication and no scar.
"I am proud of the part South Metropolitan Health Service (SMHS) has played bringing this treatment option to our community and I look forward to seeing the improved care it provides for our patients."
Fiona Stanley Fremantle Hospitals Group (FSFHG) Executive Director Neil Doverty, explained this is an excellent example of the value of working with other health jurisdictions to achieve the best outcomes for patients globally.
"Sharing knowledge and technology among jurisdictions is an important part of a high-quality health care system," Neil said.
"Congratulations and thank you to Dr Gibson for successfully introducing this life-changing technology for our SMHS community.
"This is another example of how we're always looking for opportunities to improve patient outcomes and seek to provide excellent health care, every time."
Keep up to date with our news and achievements