Care for elderly expanded at Fremantle Hospital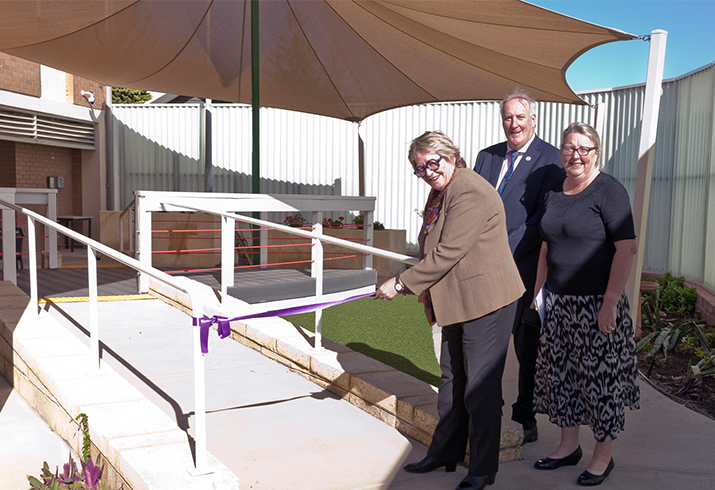 SMHS Board Chair Robyn Collins cutting the ribbon alongside SMHS Chief Executive Paul Forden and FH Director Operation and Site Manager Chris Kellett
This week Fremantle Hospital's future as hub for our elderly patients was further cemented with the expansion of facilities to better care for elderly neurology rehabilitation (neuro rehab) patients, with the opening of 26 new beds.
Split across two wards – B7 North geriatric ward and the brand new purpose-built D4 elderly neuro rehab ward – the new beds were officially opened today by State Premier Mark McGowan, and Minister for Health Amber-Jade Sanderson.
This is the culmination of many months of works and redevelopment to free up and establish the space needed. Current elderly neuro rehab patients were moved from their previous home on B7 North to the newly renovated D4 ward, which features a courtyard and murals on the walls to act as visual cues for cognitively impaired patients.
Meanwhile B7 North is reopening as a geriatric ward with new specialised fall-protection and pressure relief beds.
To support this expansion approximately 89 new full-time positions were recruited at Fremantle Hospital including nurses, doctors, allied health professionals and patient support staff.
Fremantle Hospital Director Operation and Site Manager, Chris Kellett, explained that D4 is more appropriate for our neuro-rehab patients, who typically are long-stay patients.
"It's great that we're now able to provide a more calming and appropriate space for our cognitively impaired elderly patients, as we know they often struggle with being in an unfamiliar hospital environment," Chris explained.
"It was a priority for D4 to have a courtyard, so patients can safely spend time outside which is important for their mental health when staying for long periods of time.
"We also put a lot of consideration into their memory retention and have used lots of colour on the ward to help patients remember their room – which is easier for cognitively impaired patients to recall than a number."
Fiona Stanley Fremantle Hospitals Group (FSFHG) Executive Director Neil Doverty, explained this will not only best support our elderly community, but will also help relieve pressure on Fiona Stanley Hospital by enabling these patients to be more appropriately treated at FH instead.
"We now have the ability to treat and care for more elderly patients in the best possible place for them – on the specialised geriatric ward of B7 North at FH," Neil said.
"In turn, this will free up bed availability at FSH, and is another example of how our South Metropolitan Health Service (SMHS) hospitals work together as one network to best support each other and our community, by providing the right care, in the right time, in the right place."
Keep up to date with our news and achievements