Celebrating our volunteers this National Volunteer Week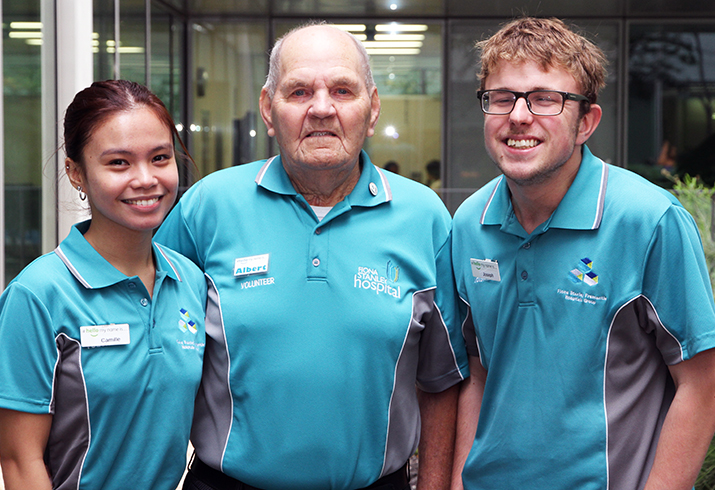 This National Volunteer Week (15-21 May 2023) we're highlighting our wonderful Fiona Stanley Fremantle Hospitals Group (FSFHG) volunteers.
From greeting patients and visitors and serving at kiosks, to driving patients to and from appointments or simply providing a welcoming face, our volunteers play an integral role in helping us deliver excellent health care, every time.
Across FSFHG, over 480 active volunteers and approximately 100 external volunteers generously giving their time to over 40 services and we couldn't be prouder to have them as part of our health service.
Hear from FSFHG Volunteers Albert, Camille and Joseph about their time as a volunteer.
Albert Harmond
88-year-old Albert Harmond was one of the first volunteers to join Fiona Stanley Hospital (FSH) when it first opened back in 2014.
Nearly a decade on, the former prison officer wishes he had begun volunteering earlier.
"It was only after retiring from my role as a prison officer after 32 years that someone suggested I should look into volunteering," Albert said.
"Had I known what volunteering was like in a hospital, I would have joined even earlier!"
Volunteering up to four days a week, Albert loves being able to help people and give his time back to the community.
"When I volunteer and visit the many different areas across the hospital, I am always me. I am able to have a joke with patients, and even share my personal experiences in the hope it helps them," Albert said.
Albert is just one of many of the original volunteers at FSH that are still dedicating their time today.
Camille Abude
Just two days into volunteering, 22-year-old Camille joined FSH as a volunteer after completing various clinical placements as part of her university degree.
Studying a Bachelor of Nursing at Curtin University, the aspiring nurse sees volunteering as an opportunity to do something rewarding.
"I became a volunteer as I wanted to do something that is fulfilling," Camille said.
"I enjoy talking to patients, getting to know them and their story.
"Hospitals can be a stressful environment for anyone. Being able to help patients and visitors, whether it be with directions or just to have a friendly chat, can easily change their hospital experience to be a positive one."
Volunteering her time in the emergency department and at the main reception, Camille encourages those thinking of becoming a volunteer to remain open minded about the experience.
"If you're young like me, take advantage and enjoy the many different opportunities volunteering can offer you," Camile said.
"I'd love to see more volunteers my age come onboard, so if you're looking for something extra to do on your weekends or on your days off, go for it!"
Joseph Gibson
21-year-old Joseph (Joe) has been volunteering at FSFHG for the past year, with his support worker (mum) by his side.
Volunteering across the hospital, Joe loves spending his time on the State Rehabilitation Service (SRS), particularly on the Spinal Unit.
"I love chatting with staff, patients and visitors, doing what I can to brighten people's day," Joe said.
"I recently helped plant veggies in the SRS garden that patients will be able to use as part of their rehabilitation – in their cooking classes for example."
From offering a helping hand to delivering flowers to patients, Joe loves the variety volunteering has to offer.
"I have been able to meet and work with a huge range of volunteers with many different backgrounds, ages and abilities," Joe said.
Outside of volunteering Joe is busy working at a clothing store, playing tennis, bowling with friends, taking part in an all inclusive and disability dance group and swimming at the local pool to stay fit.
This National Volunteer Week, we thank all our dedicated FSFHG Volunteers for the time and effort they invest in keeping our hospitals running smoothly.
If you, a friend or a loved one are interested in volunteering at FSFHG, get in touch via email at FSHvolunteers@health.wa.gov.au, or visit the volunteering page for more information.
Keep up to date with our news and achievements