Meet Clinical Nurse John Harris, the artist on D4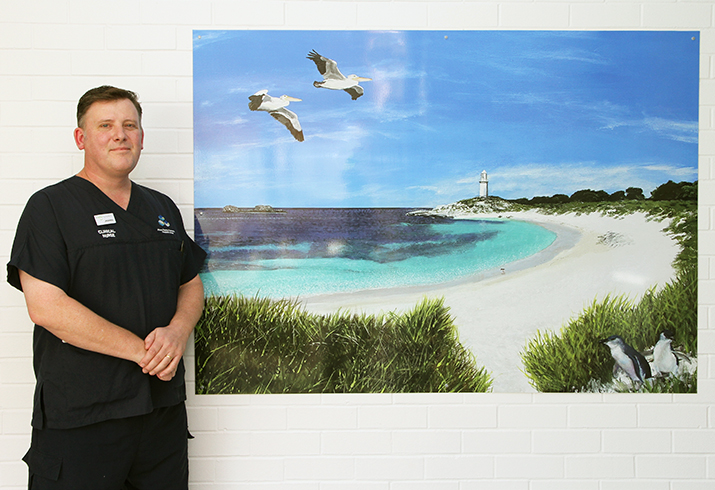 Commencing his time at Fremantle Hospital (FH) back in 1998, John Harris decided to become a nurse after enjoying his time working with residents in a nursing home.
25 years later, John is a Clinical Nurse on the newly refurbished, purpose built D4 ward at FH for elderly neurology rehabilitation (neuro rehab) patients.
Not known to many, John is also a talented artist.
"I have always dabbled in painting here and there, but it wasn't until 2020 when I really picked it up," John explains.
"It all started when I painted a portrait for a colleague's beloved dog.
"It turned out really well, so I decided to paint some more."
Painting portraits of cats and dogs for family and friends, John soon moved onto painting portraits of people for retirement gifts, and landscapes.
With a love for painting coastal landscapes, John was honoured when asked to produce two pieces of artwork for the newly refurbished ward.
"I have always enjoyed painting landscapes, particularly painting the water and the ocean," John said.
"I thought this would be the perfect opportunity to paint two coastal landscapes of Rottnest Island for the ward as the hospital is located so close to the coast, and also because of the connection we have with the Rottnest Island Nursing Post."
Despite never being to Rottnest, John got his inspiration of the island online.
"These paintings are a mash up of my interpretation of the island, where I have also added in a few extra elements for fun such as the penguins," John said.
"I have been told penguins don't frequent the island much, but that's what makes these paintings unique!"
Taking up to 20 hours to complete each painting, John explained how he would spread this time to paint across four weeks.
"I would paint a bit here and there, then leave it for a day or two, then come back and paint a little more," John said.
"Surprisingly the trickiest part about both these paintings were getting the blue skies just right."
Since the ward officially opened on 4 May 2023, the paintings have sparked many conversations between staff, patients, and their families.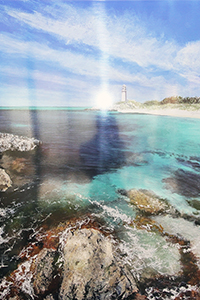 "Some patients will share with you their love for art, showing you their own photos of what they have painted in the past while sharing some tips and tricks with you," John explains.
"For others, it's a conversation about their time spent at Rottnest, sharing precious memories of the beautiful island.
"I hoped these paintings would create a sense of familiarity and bring calmness to our patients staying on the ward, and with the conversations I have heard and been a part of, I believe I have achieved just that."
Found in the ward's courtyard, the two paintings contribute to a vibrant, colourful ward, designed to meet the needs for cognitively impaired patients.
Read more about the official opening of the new D4 ward.
Keep up to date with our news and achievements