Nursing and midwifery careers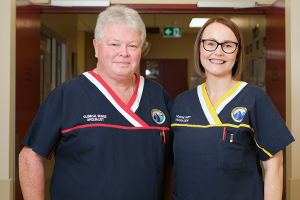 Nursing and midwifery careers at SMHS provide an opportunity to work across more than 50 specialties in diverse, inclusive and innovative workplaces committed to providing a flexible work/life balance.
Whether caring for newborns, children and adolescents, adults or seniors, our nurses share a passion to make a difference. From multidisciplinary teams to autonomous roles, SMHS offers rewarding careers, where humanity meets healthcare. Read more about the benefits of working with SMHS.
Nursing and midwifery roles in SMHS
Nurses in the WA Health system are employed under either the Enrolled Nurses, Assistants in Nursing and Health Workers Agreement (UWU) or the Nurses and Midwives Agreement (ANF).
UWU roles include:
enrolled nurse
nursing assistant
Read about the conditions, salaries, entitlements and provisions of United Workers in the WA Health System – United Workers Union (WA) - Enrolled Nurse, Assistants in Nursing, Aboriginal Health Workers, Ethnic Health Workers and Aboriginal Health Practitioners Industrial Agreement (external site).
ANF roles include:
clinical nurse/midwife
coordinator nursing
enrolled (mental health) nurse
midwife
nurse coordinator/director/manager/unit manager
nurse educator
nurse practitioner
registered nurse
staff development nurse.
See the conditions, salaries, entitlements and provisions for these roles in the WA Health System – ANF – Registered Nurses, Midwives, Enrolled (Mental Health) and Enrolled (Mothercraft) Nurses Industrial Agreement (external site).

Why not make the move to WA?
Western Australia is a diverse, inclusive and modern society, and moving to WA can be a great choice for your career and your family.
If you're located in other parts of Australia or overseas, we encourage you to follow in the footsteps of many of our staff who decided to make WA their home
These staff will tell you they not only work in a field that challenges and fulfils them, but do so in one of the most beautiful and natural parts of the world.
Through WA Health's Belong recruitment campaign, relocation incentives are available until 30 June 2024 (external PDF 727KB) to support experienced interstate and international clinical health professionals to relocate to WA.
Mental health career opportunities
Working for SMHS in mental health means nurturing and fulfilling your calling as a health care professional to change and positively impact people's lives – from adolescents to older adults.
Read more about mental health career opportunities across SMHS (external site).