Clinical academic careers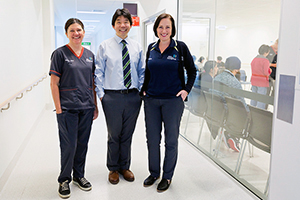 In partnership with The University of Western Australia, SMHS enhances its ability to teach and train our staff by employing many of the State's leading professors as clinical academics.
These roles include:
Assistant Professor
Associate Professor
Professor
Winthrop Professor.
See the conditions, salaries, entitlements and provisions for clinical academics in the WA Health System – Medical Practitioners (Clinical Academics) AMA Industrial Agreement 2022 (external site).

Why not make the move to WA?
Western Australia is a diverse, inclusive and modern society, and moving to WA can be a great choice for your career and your family.
Read about the recently updated relocation incentives available via the Belong campaign (external site), which applies to experienced interstate and international medical officers relocating to WA and has been extended to the 30 June 2024. Find information for prospective applications/employees (external site).