Western Australian Limb Service for Amputees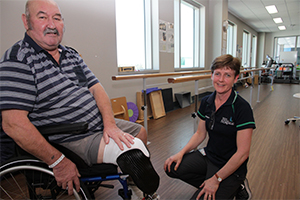 The statewide Western Australian Limb Service for Amputees (WALSA) is managed by South Metropolitan Health Service and provides funding for essential prostheses to eligible residents of Western Australia (WA), under the State Government's Artificial Limb Scheme.
WALSA provides funding assistance for eligible amputee clients:
of all age groups requiring an interim prosthesis for the completion of a rehabilitation program
65 years of age and above for definitive (permanent) prostheses for basic day-to-day activities.
Prosthetic services provided to WALSA registered clients include:
prosthetic assessment
design, manufacture and repair or maintenance of prostheses
supply of essential consumable items related to the prostheses – read about the supply and funding of prostheses by WALSA and its eligibility criteria.
Annual funding limits apply to all prosthetic services funded through WALSA.
WALSA also liaise with outpatient amputee clinics in public health facilities to ensure rehabilitation programs and clinical assessments are available to clients, associated with the ongoing use of their prosthesis.
Under the Therapeutics and Goods Act (TGA) 1989 only qualified prosthetists are permitted to design, manufacture and fit a prosthetic limb to a person requiring a prosthesis following an amputation.
Prosthetic services for WALSA registered clients are provided by the:
Fiona Stanley Hospital (FSH) Rehabilitation Technical Unit (RTU)
the following contracted private prosthetic service providers (PSP), also known as prosthetic limb manufacturers:
Information for amputees
Visit Healthy WA (external site) for information on:
types of prostheses
eligibility for a WALSA funded prostheses
supply and funding of prostheses by WALSA
caring for your WALSA supplied prostheses
support for amputees.
Information for health professionals
The following links provide information for health professionals involved in the care and treatment of people with an amputation:
Compliments and complaints
Your feedback is important because it lets us know what is working well and what can be improved. All feedback is welcome.
You can provide feedback in writing to the WALSA Operational Contracts Officer by:
mailing your feedback to our postal address (see Contact WALSA).
Appeals
WALSA acknowledges that in the administration of the service there are circumstances where you may disagree with a decision made by the WALSA Operational Contracts Officer. Where the matter cannot be resolved there is a process available to appeal the Contracts Officer's decision.
Submit your request for an appeal in writing to the SMHS Manager Contracts and send by email to WALSA Contract Management or by mail to our postal address (see Contact WALSA).
A letter will be sent to you acknowledging lodgment of your appeal request.
The SMHS Manager Contracts will respond to you, providing notification of the decision or recommendation, which may involve consultation with an independent expert.
If you are not satisfied that this matter has been resolved you may further appeal to the Health and Disability Services Complaints Office (external site).
Health and Disability Services Complaints Office
Address: GPO Box B61, Perth 6838
Free call: 1800 813 583 (free from land lines only)
Phone: 9323 0600
Contact WALSA
Western Australian Limb Service for Amputees (WALSA)
Fiona Stanley Hospital
Locked Bag 100
PALMYRA DC WA 6961
Phone: 1300 884 903