Current research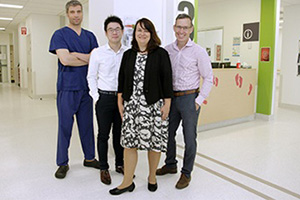 Research is critical to SMHS and the community we serve.
Our research projects include sponsored clinical drug trials, national and international collaborative trials and locally initiated projects aimed at improving patient outcomes and quality of life.
It is a credit to our investigators that the impact of their research often extends beyond the local setting, with project outcomes having national and international significance for patient quality and safety, clinical and lifestyle outcomes.
In 2019, the majority of SMHS research projects were conducted at Fiona Stanley Hospital, mostly in the areas of:
cancer
cardiovascular disease
blood disorders
neurological disorders
gastrointestinal disorders and infections.
This included:
79 projects that received approval from SMHS Human Research Ethics Committee (HREC) (noting that SMHS accepts other HRECs approval)
161 projects were approved to proceed at SMHS sites
479 publications found to have an affiliation with SMHS.
A list of all research projects can be found by using the search engine on the WA Health Research Governance Service (RGS) system (external site).
See how SMHS is improving care through research
Watch as SMHS Clinical Director of Research Professor Merrilee Needham discusses her research into neuromuscular neurology.