Hand hygiene compliance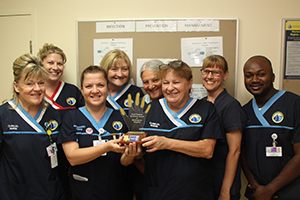 Good hand hygiene (washing hands with soap and water or using an alcohol-based hand rub) is an important part of good patient care.
It's easy to practise good hand hygiene
Proper hand hygiene reduces the spread of germs.
See easy-to-follow instructions on handwashing (Healthy WA) including translations in:
Arabic
Chinese (simplified and traditional)
Italian
Malay
Vietnamese.
Visit the Australian Commission on Safety and Quality in Health Care (external site) to find hand hygiene resources for:
patients and their carers
children and their carers
mental health workers.
Why good hand hygiene is important
Good hand hygiene is important to protect all patients, but especially those who are seriously ill or have weakened immune systems from conditions including:
Our commitment to hand hygiene
Hand Hygiene Australia (HHA) (external site) describes improving hand hygiene among healthcare workers as the single most effective intervention in reducing healthcare-associated infections (HAI) in Australian hospitals. The aim is for healthcare workers to perform hand hygiene correctly at every opportunity, for example, before and after touching a patient.
In 2008/09 the National Hand Hygiene Initiative (NHHI) (external site) was implemented to develop a national approach to improving hand hygiene and monitor its effectiveness. Hand hygiene information helps to drive quality improvement in hospitals.
Our performance
See how we measure up on hand hygiene compliance (external site).