Navigate behind the scenes of the patient journey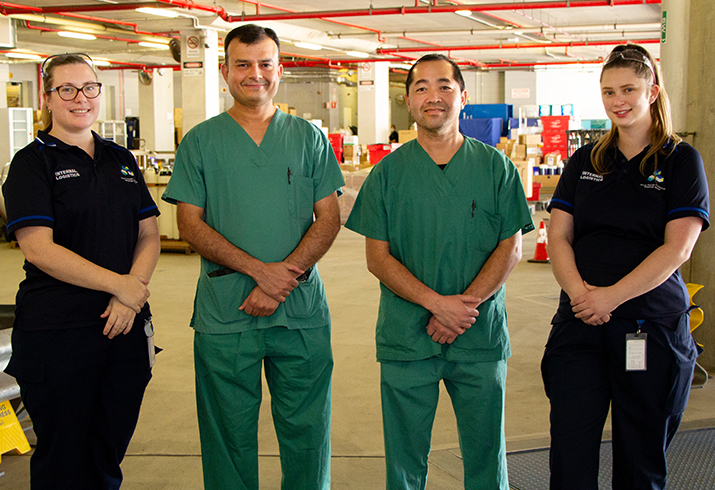 Orderlies Nicole Pinel, Qamar Khan, Dennis Tan and Marenka Erceg who appear in Children's Hospital
Children's Hospital returns for its second last episode tomorrow night (Friday 29 July 2022) and to celebrate, we are shining the spotlight on the incredible behind the scenes patient support services (PSS) team.
A large and diverse department, the PSS team is made up of cooks, cleaners, and everything in between, and are focused on supporting the smooth running of Fiona Stanley Hospital (FSH) and contributing to a positive patient journey.
Within the PSS team is the internal logistics team consisting of 150 orderlies, who are responsible for transporting approximately 900 patients a day between departments for treatment. They also support clinicians to access essential specimens, pathology products and portable medical equipment.
Popping up in this episode of Children's Hospital is orderly Nicole Pinel who loves the variety her job gives her as no two days are the same.
"I have a hospitality background, so I'm used to being in a public facing role. I love that now I can use my people skills to build rapport with patients, and I hope, brighten their day!
"I get to spend a lot of time with them as I transport them to various locations and I get to meet some really interesting characters," Nicole said.
When working in the Children's emergency department (ED), Nicole said she makes it her mission to bring an element of fun.
"When working with children I try to make their transfer in a bed or a wheelchair a really fun experience," Nicole said.
"I always make sure to smile, ask them lots of questions and point out the fun camel artwork on the walls when we leave ED to distract them."
Internal Logistics Manager Beau Hagger said it is never an issue trying to hit the golden 10,000 pedometer mark, with orderlies often walking up to 15 kilometres in a 10-hour shift.
"Orderlies support all clinical staff and work everywhere in the hospital, so they certainly get their steps up," Beau said.
The orderly role is customer-focused and suitable for people with a caring and respectful attitude and who are willing to go the extra mile to help improve the patient experience.
If you are interested in applying for the orderly recruitment pool at FSH, visit the WA Health Jobs Board (external site) for more information.
Keep up to date with our news and achievements