Innovation projects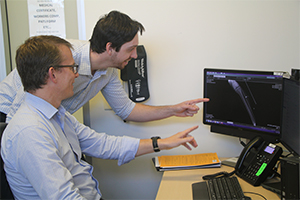 At any given time, the SMHS Kaartdijin Innovation Centre nurtures multiple diverse innovative ideas through the stages of development, testing and implementation. Read more about the SMHS commitment to innovation.
Below is a snapshot of just some of the many employee-generated innovation ideas that are progressing or have been implemented with the support of Kaartdijin and its collaborators.
Innovation initiatives
Clinical education via virtual reality simulation
This first of its kind pilot program in Western Australia is evaluating the effectiveness of virtual reality (VR) simulation-based education to upskill junior doctors. The VR training provides these doctors an opportunity to practice their response to highly challenging emergency situations in a safe and realistic clinical setting. The results of this trial will provide important insights into the role of VR in building doctors' confidence to manage complex medical scenarios and will have broader applicability to other clinical education areas.
Innovators: Fiona Stanley Fremantle Hospitals Group Anaesthetics Department
---
Gout follow-up phone clinic
This project aims to improve gout diagnosis in hospital patients, whilst also reducing the need for face-to-face outpatient appointments by establishing:
a technology platform that captures gout patient data and assists in the development of clinical workflow post-discharge
an outpatient digital health/telehealth clinic for follow-up after a patient's initial review in hospital.
Innovators: Fiona Stanley Fremantle Hospitals Group Rheumatology

---
LifeFit-SurgFit
Deliverables to date include the release of short videos on behaviours patients can adopt in the lead-up to surgery, including healthy eating, exercise, reduced alcohol intake and stopping smoking. Clinicians also encourage patients to continue these healthy lifestyle changes after surgery to improve their ongoing wellbeing. Read more about LifeFit-SurgFit (external site).
Innovators: SMHS Clinical Multidisciplinary Team
---
Malnutrition auditing tool
A malnutrition audit tool dashboard was created to display monthly malnutrition data collected during a patient's admission to increase awareness, identification and management of malnutrition. The visual collation of data also provides a platform for further innovation in managing patient malnutrition.
Innovators: Fiona Stanley Fremantle Hospitals Group Dietetics
---
Occupational therapy home visiting service goes online
This idea aims to increase the use of technology for this service including the:
development of e-forms to document occupational therapy assessments and interventions
use of an app to create professional, clear and accurate diagrams.
It is anticipated that this will improve the accuracy and efficiency of home assessments.
Innovators: Fiona Stanley Fremantle Hospitals Group Occupational Therapy Home Visiting Service
---
Pharmacie-AIR: readmission risk reduction using predictive analytics and a new model of care to prevent medication related harm
Medication-related safety for patients is a global issue and the SMHS Complex Needs Coordination Team (CoNeCT) is gaining international attention for its work developing and integrating an algorithm that predicts the risk of medication related readmission. The team is using the data to gain new insights into readmission patterns and identify priority areas, including different ways of working for hospital and community based clinicians who will connect to enable coordinated post-discharge care. They are also exploring the use of machine learning to further improve and embed the risk detection.
Innovators: SMHS Complex Needs Coordination Team (CoNeCT)
---
POP-Quiz: paediatric outpatient clinic pre-appointment questionnaire
Regular monitoring and documenting of symptoms by parents/carers before an initial paediatric outpatient appointment benefits treatments by providing clinicians with a more complete understanding of the condition and its impact.
Innovators: Fiona Stanley Hospital Paediatric Outpatients
---
Prehabilitation clinic for lung cancer patients
Lung cancer is the biggest cancer killer in Australia. Common symptoms including weight loss and muscle wasting often negatively impact patients' chemotherapy responses and their quality of life. Through collaboration and the innovative use of existing resources, a vision to embed personalised, patient centred prehabilitation into the treatment plan and care pathway for all patients has been achieved. Though interrupted by COVID, the project team kept this initiative progressing, restarting when the gyms reopened, and securing a research grant to build the evidence base for this innovative new service.
Innovators: Fiona Stanley Hospital multidisciplinary Thoracic Cancer Team and Physiotherapy Department
---
Towards metabolic health for people living with mental illness
Metabolic syndrome is a collection of conditions that often occur together and increase a person's risk of diabetes, stroke and heart disease. While still in the planning phase, this project aims to support Rockingham and Mandurah mental health consumers at risk of metabolic syndrome through screening and services focussed on lifestyle improvements such as physical exercise, stopping smoking and diet plans.
Innovators: Rockingham Peel Group Mental Health Services
---
Virtual Emergency Medicine
Virtual Emergency Medicine (VEM) is an innovative model of care delivering virtual emergency medicine clinical services.
The VEM service triages and assess ambulance patients either on scene or on route to Fiona Stanley Hospital Emergency Department (ED) through video call or tele-consultation. The program aims to fast-track patients to the appropriate assessment or treatment area for their clinical needs or discharge on the scene for the patient to remain at home.
This results in a better model of care for patients, providing the right care at the right time, in the right location through collaboration between SMHS hospitals, St John Ambulance, residential aged care facilities and community-based services. Read more about the VEM service (external site).
Innovators: Fiona Stanley Hospital Emergency Department clinicians
---
Virtual Immunology Clinic
This clinic is a new model of care concept enabled by the use of digital health technologies. Providing immunology patients with greater control coordinating their care, unique features of the clinic include:
digital health triage consult involving discussion with the patient
automated administrative workflows including provision and collection of pre-appointment information
joint telehealth appointments with GPs for more complex cases requiring coordinated care and GP upskilling.
The clinic has been well received by patients and GPs, seeing more than 500 patients in 6 months (more than half of which were paediatric patients) and reduced the paediatric immunology waiting list by almost half. This model is now being expanded across other clinics.
Innovators: Fiona Stanley Hospital Immunology
---
Virtual Fracture Clinic
The Virtual Fracture Clinic enables patients with simple fractures to be treated at home with access to rehabilitation programs and telephone support from a team of advanced scope physiotherapists and overseen by orthopaedic specialist consultants. The clinic, the first of its kind in Western Australia, demonstrates a patient-centred, alternative way of providing care outside an outpatient setting.
Innovators: Fiona Stanley Hospital Physiotherapy, Orthopaedics, Plastics, and Emergency Department