Finding the positives in the unexpected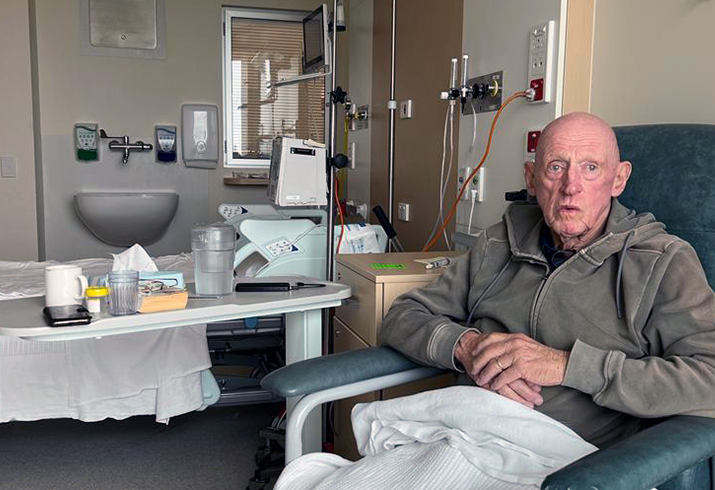 The last thing 80-year-old William (Bill) Hazel expected to be doing whilst holidaying in sunny Western Australia was to be spending two weeks in hospital.
Visiting Perth all the way from Dorset in the UK, Bill had planned to enjoy Christmas and the New Year break with his family, before jetting back to the UK in early January.
However, things took a turn for the worse when Bill experienced unusual tightening of the chest when out for a leisurely walk.
"I was hesitant to go to the Emergency Department (ED) because I didn't think it was anything too serious, and instead attempted to see a GP," Bill said.
"The following day I was persuaded to join the queues at Fiona Stanley Hospital's (FSH) ED, even if it meant I were to be dismissed with just an aspirin."
After arriving at FSH, Bill was closely monitored and spent two nights in ED before being transferred up to Ward 5B.
"I was moved from the busy ED floor to an oasis on Ward 5B where Dr Hassan told me I had heart failure, atrial fibrillation (AF) and a lung infection," Bill said.
"I had an x-ray, CT scan and an echo cardiogram before 'graduating' to Ward 6D where I had heart monitors all over me, IVs drips in and oxygen up my nose.
"It was not a pretty sight."
Despite the extensive treatment and ongoing care received throughout his 15-day stay, the highlight of Bill's hospital stay were all the staff involved in his care.
"Your gentle and empathetic doctors, your delightful nurses, hospitality staff, pharmacists, those who took blood and fitted cannulas, the chatty cleaners and the catering team... nothing was ever too much trouble," Bill said.
"They all showed endless patience, they were always cheerful, upbeat and confident in their work.
"I am truly humbled by the friendship I was able to establish."
Upon being discharged from FSH, Bill attended follow up appointments to ensure his blood levels and lung capacity were improving.
"Once discharged I improved steadily and am now considered to be back to normal with no trace of AT or pneumonia," Bill said.
"It was a pleasure to visit FSH and a joy to be a patient in your care. It goes without saying there was a lump in my throat when we left.
"I am now enjoying the later stages of summer in Perth, swimming and regularly visiting Fremantle on our e-bikes before jetting back to the UK in early April.
"To the whole team, I would like to say how truly thankful I am."
Keep up to date with our news and achievements