History
Rockingham General Hospital
Population growth following the opening of the Kwinana Refinery in 1955 led to the proposal to open a 64-bed hospital for the Kwinana and Rockingham areas.
The 71-bed Rockingham Kwinana District Hospital was established in 1975. Set on 18-hectares and renamed in 2008 following a $116 million redevelopment, Rockingham General Hospital and provides a range of medical, surgical and emergency services.
Murray District Hospital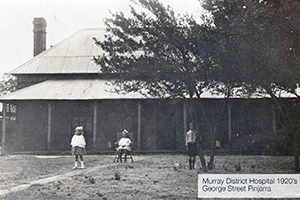 At the start of the 20th Century, Pinjarra had the district's only hospital. This was a small house near the corner of George and James Streets, leased from JP McLarty.
By the 1950s, the old hospital had become beyond repair and a new facility was needed. Land was acquired between the old hospital and the river and a new hospital was constructed by Fred Wells for a cost of 128,500 pounds, of which Lotteries Commission paid half.
The new Murray District Hospital was opened by Premier Ross McLarty in October 1952. It had a 24-bed ward, an outpatient's wing, operating theatre, x-ray, pathology, and an 8-bed maternity ward.
More information
A Short History of the Old Murray District of Western Australia 1829-1900, by Ronald Richards (1980), R. Richards, Applecross