Nursing and midwifery career benefits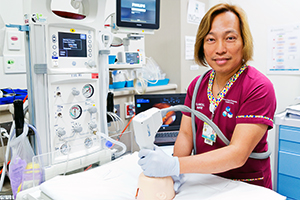 From nursing and midwifery roles in clinical practice and management to those focussed on research and education, we welcome nurses and midwives with all levels of skills, knowledge and experience.
Read below about the benefits and career development opportunities available to our nurses and midwives.
Employee benefits
Generous salary and leave arrangements
You will receive a competitive award-based salary, plus 11 per cent employer contributed superannuation paid into a superannuation fund of your choice. Superannuation rates will incrementally increase to 12 per cent on 1 July 2025.
Other benefits include:
allowances such as the qualification allowance and shift penalties, where applicable
flexible work practices – part-time, casual, flexible working hours, rostered days off
flexible leave options, including 13 weeks long service leave for every seven or 10 years of continuous service and paid parental leave for 14 weeks, in addition to the Australian Government-funded Paid Parental Leave scheme with flexible options on how and when you return to work.
Salary packaging
Access to salary packaging arrangements including fringe benefits tax concessions – exemption from paying FBT subject to a $15,900 capping threshold. Hospital employees may package additional items such as general living expenses, mortgage repayments, rent and credit card payments.
Visit Smartsalary (external site) or Paywise (external site) for more information from WA Health's salary packaging providers. Conditions apply and it is recommended you seek advice from your financial advisor.
Staff wellbeing
The safety, health and wellbeing of our staff is a priority. The following items indicate some of the wellbeing measures we provide to improve staff wellbeing:
In a first for WA Health, SMHS appointed a dedicated Chief Wellbeing Practitioner in July 2022 to lead and coordinate wellbeing initiatives.
Staff social and wellness clubs such as yoga and run clubs offering regular events.
Our employees have access to an Employee Assistance Program for themselves and their family to access free confidential counselling for personal and work matters.
An active Pride Committee, whose aims and goals are comprised of pride, awareness, advocacy, education, empowerment, inclusiveness, unity, support and networking for employees.
Additional benefits
A number of additional employee benefits are available to staff which include:
reduced cost membership to a multitude of fitness facilities across Perth through the SMHS Fitness Passport
subsidised Transperth travel

Wanslea (external site)

onsite childcare facility at Fiona Stanley Hospital
dedicated clinical educators on each ward.
Career development
Training and development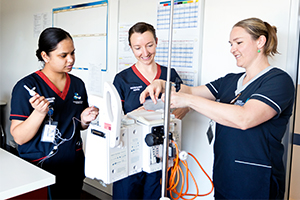 As part of our nursing and midwifery team, you will have access to a wide range of training and development programs tailored to meet your individual needs and support your ambitions.
We are committed to facilitating personal growth, confidence and competence through planned learning experiences in formal and informal settings. Our training and development suite includes:
annual schedule of clinical and corporate study days and short courses
monthly toolbox education sessions
the Transition Program which supports graduates in their first year of practice
supporting acute care skill development through the Explorer Program
the Odyssey Program to rapidly upskill for specialist areas such as the emergency department, intensive care and theatre
supporting clinical nurse and clinical midwife role development through the Discovery Program
participating in the South Metropolitan Health Service (SMHS) Care to Manage, Care to Lead and Coaching programs.
Partnerships with universities
To support professional development and specialisation, our nurses and midwives can access a suite of post-graduate programs at a reduced rate in partnership with local universities. This includes the:
Graduate Certificate in Health Leadership and the Graduate Certificate in Mental Health Nursing with The University of Notre Dame
Graduate Certificate in Acute Care with Curtin University.
Once graduated, staff are eligible to claim the qualification allowance.
Grant opportunities
All our nurses and midwives are eligible to become members of the Francis Jones Fund.
The fund provides grants of up to $2000 for educational purposes and an annual research development grant to support expenses related to undertaking research.
Spearheading research
Our Nursing and Midwifery Research Unit provides leadership and development for nurses and midwives in research.
The unit provides an avenue for nurses and midwifes to gain support, guidance and mentorship when undertaking nurse-led research projects and/or working in clinical trials research across Fiona Stanley Fremantle Hospitals Group.
The unit links with all Western Australian university research degrees in nursing and midwifery.
Caritas Awards
Each year we recognise the outstanding contributions of our nurses and midwives through the Caritas Awards. These awards acknowledge those nurses and midwives who make exceptional contributions in clinical education, clinical practice, graduate, research and leadership. An award recognising an overall Nurse/Midwife of the Year is also bestowed.
Championing environmental sustainability
As an active member of the Global Green and Healthy Hospitals network, SMHS and its hospitals are committed to reducing the environmental impacts of the healthcare sector.
Through the SMHS Green Ambassador program, our nurses and midwives can become local environmental sustainability leaders and champion for change by working together to share ideas, problem solve, and reduce our environmental footprint. Read more about the SMHS comittment to environmental sustainability (external site).
More information
Read more about being a nurse or midwife at Fiona Stanley Fremantle Hospitals Group
Contact us
For more information about nursing and midwifery career opportunities, email FSFHG Nursing Recruit.